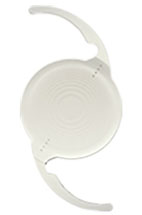 The Tecnis Symfony Toric lens is an intraocular lens that is implanted during cataract surgery after the cataract has been removed. Briefly, the Symfony lens allows patients to see a continuous range of clear vision, usually from far away distances to intermediate range distances (such as computer screens), without the need for bifocals or progressive glasses. Read more details about the Symfony lens here.
However, to achieve this range of clear vision, the patient cannot have significant astigmatism, or warping on the surface of the eye. For those patients who do have astigmatism, the Symfony Toric lens can be used to address this problem.
Astigmatism can be thought of as an asymmetric warping on the surface of the eye, like a football instead of a basketball. This "football" has a certain orientation, or axis, on the eye. The toric component of the Symfony Toric lens also has a "football" shape, which is marked by two sets of linear dots on the lens surface. If the two "footballs" are placed opposite of each other (90 degrees apart), they can cancel each other out and lead to an overall "basketball" appearance, essentially reducing the astigmatism of the eye.
Because the Symfony Toric lens is a Symfony lens combined with a toric lens, it has the associated risks of both of these lens technologies. With the Symfony lens, there is an increased risk for halos, glare and starbursts around lights at night. With the toric lens, it is important that the lens sits at the correct axis to reduce astigmatism. If the lens is off-axis, or if the lens rotates out of position, less astigmatism is removed.
However, if the toric lens is situated at the correct axis, its ability to correct astigmatism after cataract surgery is one of the most accurate and reproducible methods that exist today. Together with the Symfony technology, the Symfony Toric lens provides patients with cataracts and astigmatism a terrific option to improve the quality of their vision without glasses after cataract surgery.
If you have cataracts and astigmatism, come in for a consultation here at San Jose Eye Institute, and ask us whether the Tecnis Symfony Toric lens is right for you.