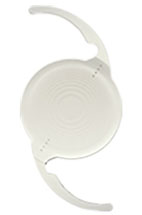 The Tecnis Symfony Toric lens is an intraocular lens that is implanted during cataract surgery after the cataract has been removed. Briefly, the Symfony lens allows patients to see a continuous range of clear vision, usually from far away distances to intermediate range distances (such as computer screens), without the need for bifocals or progressive glasses. Read more details about the Symfony lens here.
However, to achieve this range of clear vision, the patient cannot have significant astigmatism, or warping on the surface of the eye. For those patients who do have astigmatism, the Symfony Toric lens can be used to address this problem.
Astigmatism can be thought of as an asymmetric warping on the surface of the eye, like a football instead of a basketball. This "football" has a certain orientation, or axis, on the eye. The toric component of the Symfony Toric lens also has a "football" shape, which is marked by two sets of linear dots on the lens surface. If the two "footballs" are placed opposite of each other (90 degrees apart), they can cancel each other out and lead to an overall "basketball" appearance, essentially reducing the astigmatism of the eye.